Artificial Grass Installation Dubai
We Provide Professional Artificial Grass Installation Services
We have many years of expertise delivering and installing fake grass throughout the UAE, and we are now one of the leading artificial grass installation companies in the country. Dubaigrasscarpet.com is the top artificial turf business in Dubai, providing affordable residential and commercial artificial turf services. Our fake grass is also used in sports grounds, indoor decorative spades, and hotel or restaurant lawns to provide a very appealing and comfortable effect. We are proud of our many years of excellent artificial grass installation Dubai services in the UAE.
We Offer Premium Quality Artificial Grass Installation
We are well-known in the UAE for transforming a variety of indoor and outdoor areas. Our loyal clients may rely on us to offer high-quality, timely services. We are recognized for the high quality of our products and for providing honest artificial grass installation services, and we never compromise on quality. We take great care in every step of the process, from installing fake grass carpet to giving your area a finishing touch, to ensure that the grass will remain for a long time. 
Our synthetic turf is a dependable, long-lasting, and low-maintenance alternative to genuine grass. It's ideal for adding a useful yet whimsical touch to your décor. We promise 100 percent trustworthy Artificial Grass Installation Dubai high-end services and the highest quality product as the top Artificial grass Installation Company in Dubai, UAE.
For your any query and consultation, our contact team is available 24/7.
Importance Of Artificial Grass Installation
If you're sick of caring for your natural grass and mowing it every weekend, we're here to provide you with the greatest option. Many of your natural grass upkeep difficulties may be solved with artificial grass. You should be informed of the main characteristics of Artificial Grass before opting for the alternative. There are a number of advantages to having artificial grass installed, including 
Installation is simple and cost-effective.

There will be no watering or weeding.

It's simple to set up and maintain.

UV Stabilized Pet Friendly

Backing with a built-in weed suppressant

Adaptable to a variety of sizes

There is no need for mud filling.
Artificial Grass Installation Dubai Helps You Improve The Look Of Your Home!
We are also giving a number of methods to use fake grass not only for outdoor areas but also for interior decorating, thanks to the rapid, inventive improvement in numerous ways to use artificial grass. Artificial Grass Installation Dubai services may be used to decorate your balcony, living room space, or gallery with various patterns. The color green, which is both invigorating and vivacious, breathes new life into your environment. 
We provide skilled artificial grass installation with personalized designs to meet each individual's current design demands. Our skilled installation crew will operate in accordance with your design approach, resulting in a flawless appearance for your area.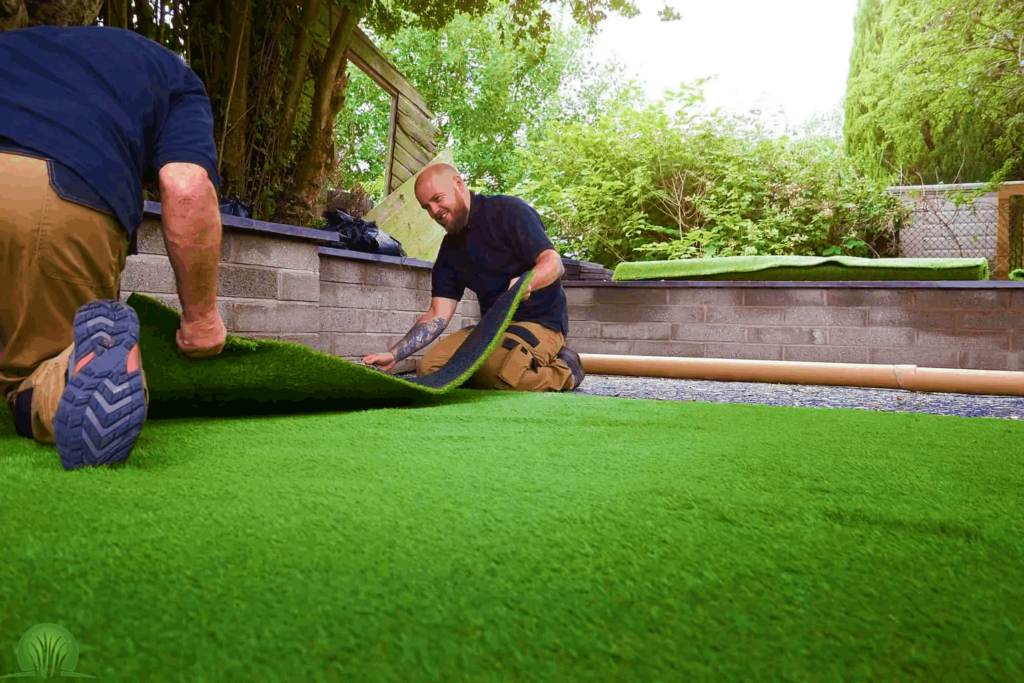 Why Choose Us For Artificial Grass Installation Services
Dubaigrasscarpet.com emerges as the top-ranking contractor for artificial turf installation services providers as a top Artificial Turf Installation & Maintenance Company Dubai. We provide a well-anticipated view with appropriate artificial grass Installation in Dubai thanks to our knowledge and professional services. 
At moderate costs, we also provide professional guidance and further doorstep repair and installation services. Call us right now to take advantage of our high-quality services.