Swimming Pool Artificial Grass Dubai
Swimming Pool Artificial Grass Dubai – The Natural Attraction
The swimming pool is a great place to relax and have fun with your friends, but not everyone wants the hassle of dealing with the maintenance that comes with keeping a pool clean. If you want all of the benefits of having a swimming pool without any maintenance, consider installing artificial grass around the pool area. Not only will this keep your pool looking great all year long, but it will also make it easier for you to enjoy your time in the water without having to worry about getting dirty.
We offer the best Swimming Pool Artificial Grass Dubai – The Natural Attraction. Our swimming pool's artificial grass gives a natural look and feels that is perfect for swimming pool surroundings.
Swimming Pool Artificial Grass Is Made Up Of High-Quality Material
This artificial grass is made up of high-quality material that can withstand the weather. It doesn't fade in the sun and it doesn't get slippery when wet. In addition, it doesn't attract any pests so you don't have to worry about any unwanted guests. it is made of high-quality polyethylene material. 
It's low-maintenance, looks great, and is perfect for those who have kids or pets. Our Swimming Pool artificial turf is made up of high-quality materials that will last you for years. Plus, we offer a money-back guarantee on all of our products! If you're interested in learning more, please visit our website today.
For your any query and consultation, our contact team is available 24/7.
Benefits Of Swimming Pool Artificial Grass You Need To Know About!
Swimming pool artificial grass Dubai is one of the best investments you can make for your swimming pool. Not only does it look great, but it also offers a number of benefits that you will appreciate. Some of the top benefits include:
It is soft underfoot, so you don't have to worry about getting hurt if you fall on it.

Artificial grass doesn't get hot as concrete does, so it's perfect for swimming pools.

It's super easy to clean- a quick sweep or hosing down will take care of any dirt or debris.

Our Artificial grass for swimming pool surroundings provides you with a non-slip surface.

We offer artificial turf with the best drainage system.
Meet Our Professionals To Get Your Swimming Pool Artificial Grass Installed
With a variety of turf fiber types and colors, it's easy to find the perfect artificial grass for your needs. While installation may appear daunting, our professionals are equipped to handle the entire process for you. From removing current landscaping grass to leveling the surface, we have all the bases covered. Our team at Dubaigrasscarpet.com is composed of experienced, qualified, and skilled workers who have been installing artificial grass for many years. 
From start to finish, we will take care of everything for you so that the installation process is as smooth and stress-free as possible. We understand that not everyone is familiar with the installation process, which is why we are here to help you with the best installation!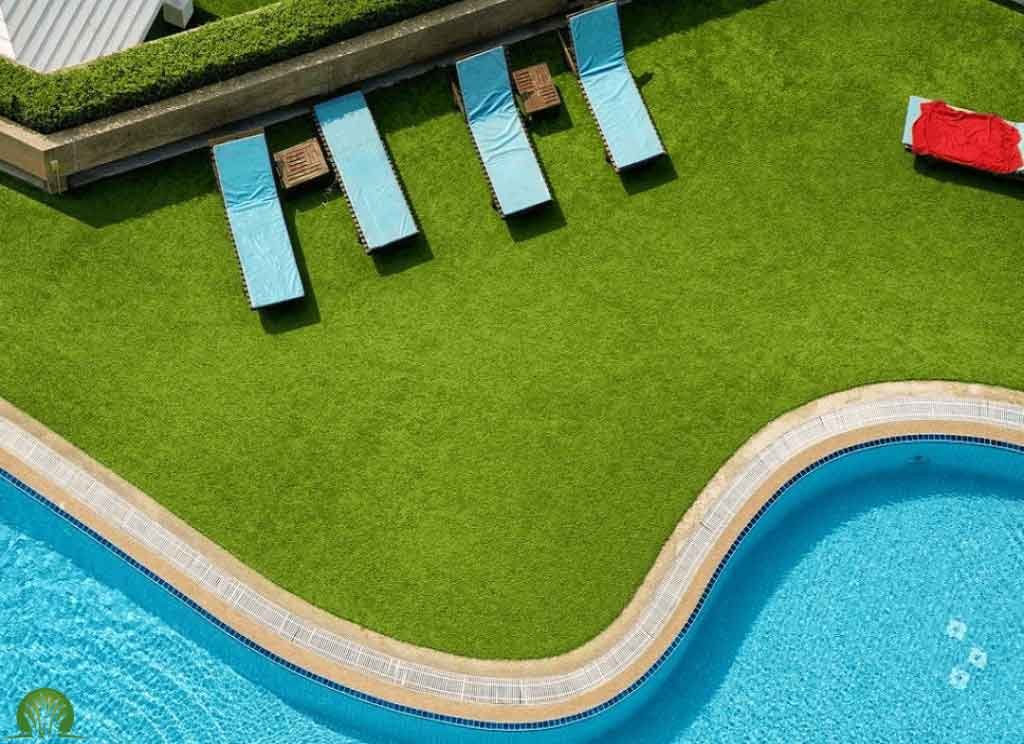 Artificial grass carpet for swimming pools is a great option for swimming enthusiasts. It can be used to create an outdoor space that is practical, beautiful, and low-maintenance. At Dubaigrasscarpet.com, we have a variety of artificial grass products that are perfect for swimming pools. We supply this fake grass all over the UAE. Also take pride in assisting our customer with the doorstep delivery along with affordable installation services. Get in touch to avail our services!