Wall Artificial Grass Dubai
Wall Artificial Grass Dubai - Add Natural Aesthetic Appeal To Your Walls
If you wish for the natural look of your wall, then artificial grass installation is the best option. It can be installed in both residential and commercial places. Our wall artificial grass Dubai looks similar to the natural grass. You will feel that you are spending your time in the outside environment. 
It is suitable not only for indoors but also for outdoor places. If you want to install this artificial wall grass  in your place, then Dubaigrasscarpet.com is the best forum to contact. Definitely, you will enjoy the best quality of material used in it, relaxed surroundings and take other affiliated advantages.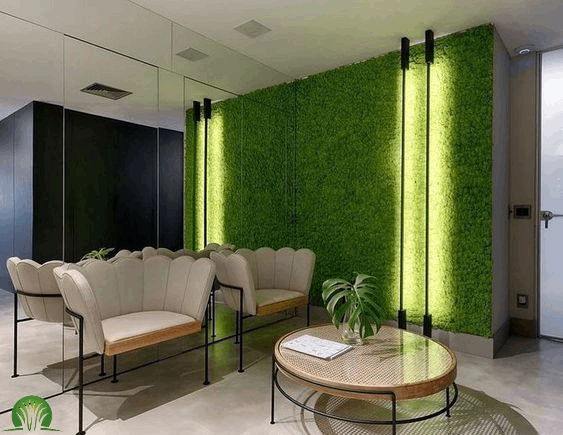 Order Custom Made Wall Artificial Grass From Us!
We have prepared articles of wall artificial grass Dubai but these can be prepared according to your directions. Sometimes there is a dire need for considering the will of customers in some orders like dragon mart artificial grass. 
In that, there are different designs of this type of artificial grass wall design ideas. That's why it is made according to the wish of the client. You can contact us through a phone call. Besides this, you can contact us online through our official website. So, contact us from any corner of Dubai to gain our best services.
For your any query and consultation, our contact team is available 24/7.
Get To Know About Some Appealing Features Of Wall Artificial Grass
Wall artificial grass Dubai is loved due to its multiple attributes. First of all, it is the best source of saving money. You have to consume a huge amount of money on the insulation of your place through the installation of an air conditioner. 
Artificial grass for wall will make your place cool and calmful. You only have to dust it with a cloth on daily basis to keep it well looking. Similarly, other flooring options like carpets present an odd look early due to the spoiling by children and pets. 
There is no need to worry about the damage of wall artificial grass by the children and pets. Besides this, your place will present a natural and aesthetic appearance. If you prefer it for your commercial place, then there will be more economic activities.
Get our foremost Artificial Synthetic Turf in Dubai
Artificial grass also known as synthetic grass or synthetic turf is used for many purposes. The major use of this type of grass is on walls. Although it is most frequently used in playgrounds and sports arenas, private landscaping is growing in popularity. Using synthetic lawns is your best option if you prefer the structure to appear natural. It is typically employed as a decorative element in the interiors of homes, recreational centers, and various indoor or outdoor spaces. Dubaigrasscarpet.com is the best forum that provides the facility to install Artificial wall grass in Dubai and across the UAE. You can take advantage of complementary advantages as well as the finest quality components utilized for it.
We have grass wall panels available in a variety of hues, designs, and textures, and they can be altered to meet particular design requirements. Typically, it is made of materials that are strong, clean, and indestructible to deterioration or wear, such as nylon, polypropylene, or polyethylene. It is installable in all places including both domestic and business settings. In Dubai, our fake vegetation on the walls resembles real grass. You'll have the appearance that you're relaxing outside. Dubaigrasscarpet.com offers artificial grass wall designs in Dubai and all over the UAE. We also provide the best installation services by our professionals and experts. 
We Provide Relaible & Cost-Effective Wall Artificial Grass Installation
We have been providing artificial grass installation services throughout UAE for a very long period. You can avail our services in commercial and non-commercial places. Till now, we have installed this grass on playgrounds, interior decoration places, and the courtyards of different restaurants and hotels. 
Similarly, green wall with artificial grass has been installed on many spots. Our pricing plans are affordable as compared to our competitors. We have many happy clients due to the provision of the best quality; therefore our wall artificial grass lasts for a very long period of time. You can take these advantages but after making a contact with  Dubaigrasscarpet.com. 
Dubaigrasscarpet.com is an extraordinary firm offering a multitude of services from order taking to its completion. We are the best wall artificial grass carpet supplier in Dubai. These services are delivered by our skillful labor. You don't need to travel to us because you can take services at your doorstep. 
There is always a timely delivery of your order, you will not have to contact us again and again for the completion of your order. So, prefer Dubaigrasscarpet.com for taking the best wall artificial grass services in Dubai.