Hotel Artificial Grass Dubai
Expand The Values Of Your Hotel With Hotel Artificial Grass Dubai
Hotel Artificial grass is the perfect way to expand the value of your hotel. Installing artificial turf will increase your property value and give you a competitive edge against others in the area. It will also save you money on water bills and keep the grounds looking neat and tidy all year round.
For the vast majority of people, a hotel stay is an opportunity to relax and escape from every day. At its best, a hotel can provide an immersive and unique experience that leaves guests feeling refreshed and reinvigorated. Hotel artificial grass Dubai can help your establishment deliver on this by expanding the possibilities for what your hotel can offer. 
Buy Best Quality Hotel Artificial Grass
Artificial grass is already used in many hotel gardens and around swimming pools. Consider the sub-tropical conditions seen around the Mediterranean. Hotels are frequently prohibited from irrigating in order to conserve water. There will always be a beautiful green garden with hotel artificial grass, while water use will be reduced by up to 70%. They do, however, save a lot of money on upkeep. Because it is soundproof, flame resistant, heat resistant, anti-mildew, anti-rust, and gentle on the feet, artificial grass is suitable for hotel and restaurant decorating.
There will be no heavy metal and no harm to children or animals. Artificial grass for hotels and restaurants greatly increases the overall decorative impact. There is no fertilizing, weeding, mowing, watering, or trimming required, making it considerably easier than natural methods.
For your any query and consultation, our contact team is available 24/7.
Why Use Hotel Artificial Grass In Dubai Instead Of Natural Grass?
Artificial grass is preferred over real grass for a variety of reasons. First and foremost, when it comes to hotel fake grass in Dubai, there is a lower danger of allergies.
It does not grow or multiply since it is synthetically created. It is devoid of any living vegetation, blossoming flowers, or trees. As a result, the danger of your consumer coming into touch with certain allergens is greatly reduced. As a result, using artificial grass in your hotels is extremely safe.
Modern Hotel Artificial Grass Installation
What are the advantages of using artificial grass for hotels in Dubai for your establishment?
When you use hotel artificial grass in Dubai for your hotel, you can simply enjoy a variety of benefits. The main advantage of employing it is that you will not have to spend any additional funds on it. All you have to do is purchase hotel fake grass in Dubai and have it installed by an expert. You won't have to spend any more money on watering or cutting it after that. That is why having it installed in your hotel is a very cost-effective decision.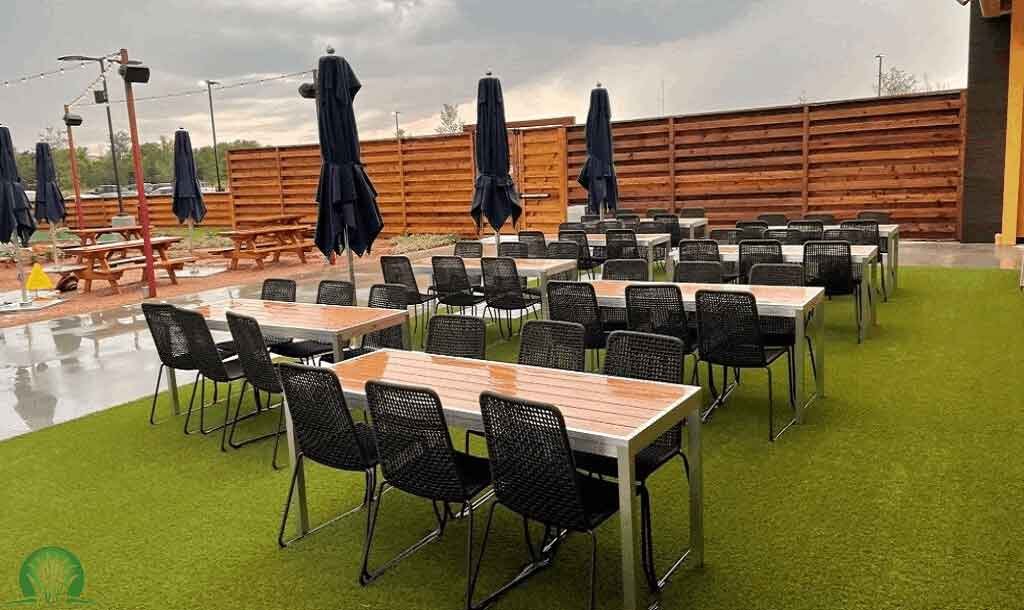 Why Dubai artificial grass is the best hotel grass supplier in Dubai?
There are several reasons to believe that Dubai fake grass is the top hotel artificial grass provider in the city. We constantly make sure to deliver the greatest customer service possible by providing the best fake grass.
Our grass is dependable and of the highest quality available. The best part is that Dubai artificial grass is available at extremely reasonable prices. We would be delighted to assist you.
So, what do you have to lose? Move quickly if you wish to improve the standards of your hotel by adding artificial grass. Contact us right now to make your order for the highest quality hotel artificial grass.